14th IFK Australia National Championships
Sunday 12th November
This will take place at the same place as it did the last two years - the National Centre for Indigenous Excellence, 180 George St, Redfern (map).
This year, there is no Full Contact, but we still have both Clicker and Points - in both individual and teams, and it's TIME TO START SIGNING UP! Get your entries in now.
Protective equipment for the tournament
Basic and required protective equipment consists of mouthguard, shin-instep protectors, and mitts. See the image below. Males will also need groin guards, and for female teenagers and older, breastguards are recommended.
For those 7 years and under, all items EXCEPT mouthguard are optional.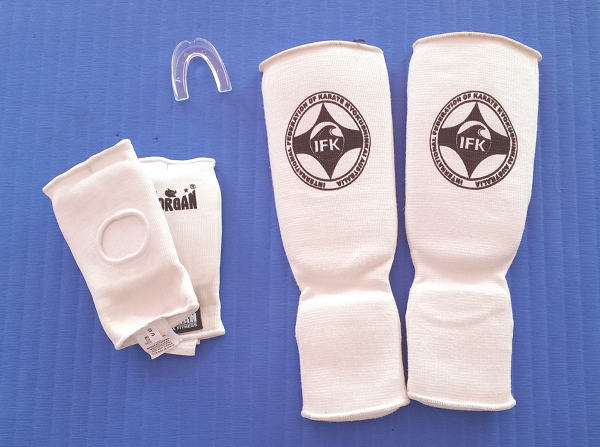 I have some of these in stock, but you need to check with me soon, so I can get more if needed. The labels may or may not the be same as those pictured below. And mouthguards should be obtained earlier because they need to be molded to fit. It's also a good idea to get the pads and mitts earlier so you can practice wearing them before the tournament.
Shin-insteps are $25, mitts are $15, mouthguards are $7, and groinguards are $15.
EoY Party and dojo awards
Sat 25th November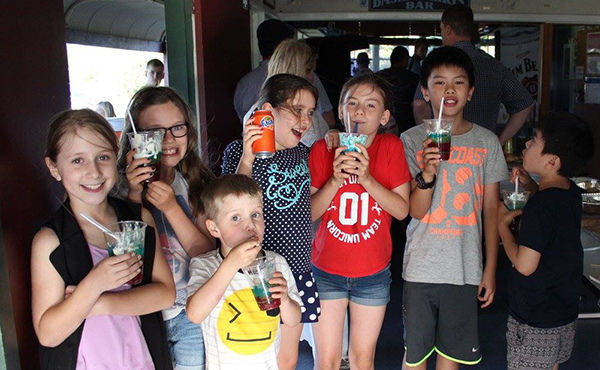 This will be in the same place as last year - with all the fun that went with it. The food was good, the games were good, and of course, the company was good too!
Last Junior Grading for 2017
Sunday, December 3rd
This time, the grading will be on a SUNDAY due to another commitment I have on the Saturday. This will only be up to 5th kyu (senior yellow belt) and grading forms are available here.
Fighting Fit Seminar
Sunday 22nd October
We had a great turnout for this event, with over 20 participants - if this keeps up, we'll have to move it to KKC dojo, where they have more space!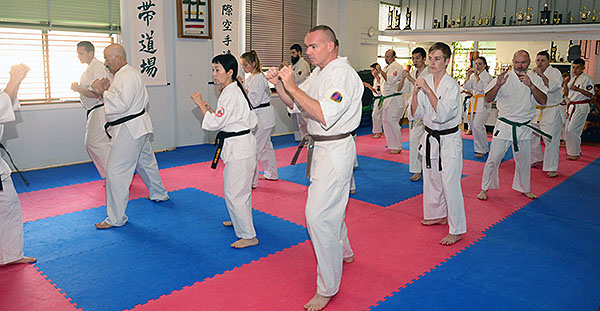 Shinkyokushin Nationals
Sunday 5th November
We've got ONE participant going to this event - our very own Alex Carr. I suggest as many people as possible go along to support him. The event is at the Whitlam Leisure Centre (90 Memorial Avenue, Liverpool NSW) (map)
2018 Camp
Fri 19th – Sun 21st January
The dates for the 2018 Camp have been confirmed! We've also managed to confirm that once more, Shihan David (now 7th Dan) will be attending again. Make sure you book these dates in your calendar. Camp sign up coming soon.
Camp T-shirt design competition
Also, this time, we're inviting any and all aspiring designers, to design the t-shirt for thiscamp. It's a competition. The winner will get a free t-shirt and one day free at the camp!. Non-training family members can try too, and they can either START training, or a training family member will get the prize instead. Let me know, and I'll put you on the list!
Don't forget to check out the Interesting links section below
OSU!