December and Holiday Schedules
First the most important stuff! The important dates for next year
During the school holidays, all Newtown students are encouraged - AND welcome - to come to classes at Petersham. That way, you get to know the kids from the Petersham dojo,and you don't forget your karate during the holidays!
EoY Party and dojo awards
It looked like everyone had a great time at the party, and we had as many people there as last year! We're thinking of doing it there again next year? What do you think? Got any alternatives?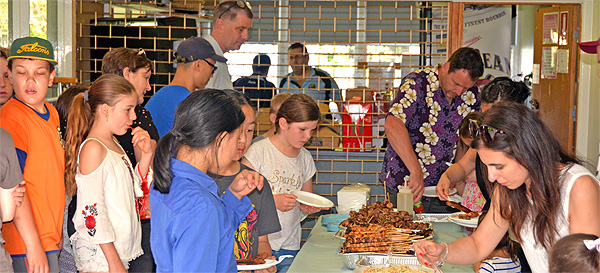 Kuro Obi Dojo Awards
At the End of Year Party, the instructors always hand out dojo award certificates to those students who have shown dedication, dojo spirit, and improvement in the form of the "Most Improved" and "Dojo Spirit" This year, I decided to split the juniors into two age groups - 6-8, and 9-12. These awards are not based on grade, only on performance. The following are the recipients of those awards.
| | | |
| --- | --- | --- |
| | Dojo Spirit Award | Most Improved |
| 6-8 yrs | George Penesis | Taiyo Wheeler |
| 9-12 yrs | Julian Martinelli | Jaya Reddy |
| Seniors | Alex Carr | Chris Rosiak |
Last Junior Grading for 2017
Sunday, December 3rd
This time, the grading will be on a SUNDAY due to another commitment I have on the Saturday. This will only be up to 5th kyu (senior yellow belt). The grading will be at Petersham Dojo (click here for a map).
The grading starts at 10am, and will go to about 12:30pm. Doors open at 9:30am. Be there at least by 9:45am. Also, just a reminder: spectators are not allowed. There are a number of good coffee shops in the area.
2018 Annual IFK Australia Camp
Fri 19th – Sun 21st January
The next big event is our Annual Camp! Shihan David (now 7th Dan) will be attending again, and I've heard that there will be some other overseas visitors too. And don't forget the beach training!

Make sure you book these dates in your calendar. There is an early bird price of up to 10% off if you book by December 15th, and if you want a camp T-shirt, you need to book that by December 15th too.
Bookings end 16th of January. Note that if you book for less than 3 days, and later decide to add days because you like it so much, , it will cost you 1-day rate for each extra day, and late booking requests (from 16th-18th) will incur a 10$/day extra charge.
Camp T-shirt design competition
Also, this time, we're inviting any and all aspiring designers, to design the t-shirt for this camp. It's a competition. The winner will get a free t-shirt and one day free at the camp!. Non-training family members can try too, and they can either START training, or a training family member will get the prize instead. Let me know, and I'll put you on the list!
We've already had a couple of designs in already. Get yours in now. If you need any graphics for the Kanku, IFKKA logo, IFK logo, Kyokushin Kanji, just let me know. I can provide them in Illustrator or PSD or PDF format.
Don't forget to check out the Interesting links section below
OSU!