Contents
Grading Results
Sunday 24th March
I'm pleased to say that the following people from Kuro Obi dojo have got new grades as of this month!
Ned McPhie
Joon Denholm
Venkat Reddy
Luke Criniti
Isabel Criniti
Ruby Brannigan-Stuart
Juan Pujante
Nick Criniti
Jamie Scott

Bonus senior grading result

Anthony Zamattia
from KKC Dojo
Fundraising
So far, efforts have been going really well! Chocolates have been sold well in both dojo, and the BBQ brought in a bit of money!
But wait - there's more! We've got a couple more things in the pipeline.
Easter Chocolates Raffle
We have a hamper full of Easter eggs and chocolate bunnies etc... just aching to be taken home by someone. Raffles are being sold in both dojo, $2 for one ticket, $5 for 3 tickets. Come and see me about tickets if you want to be in on it.
(Another) Election Day BBQ
May 11th or 18th 2019
This time it's the BIG ONE! Among the beauties of living in a country with lots of levels of government is that we have lots of elections. While the duty of voting might be a pain, it's also a privilege. And along with that privilege comes to the opportunity for "Democracy sausages".
Once again, we've been given the opportunity to run a BBQ stand on site, and we're hoping that once again everyone will be as helpful and willing to staff it.
Obviously, until we know which weekend it's going to be, we can't confirm the date.
If you are able to spare a couple of hours on either of those days, please let Anthony know (anthony@ifk-austrlalia.com) or 0414 512 361 as soon as possible.
Other fundraising options
If you know of any other ways we could raise funds, please let us know. This could include possible grants, sponsors, and anything else that we haven't ourselves thought of.
Kata tournament
26th May
It's kata tournament time again. We're still looking to confirm the venue, but we have a booking form ready for it, and we've been practicing for it.
Register now, so that at least you can confirm your resolve, even while the venue has not yet been confirmed!
And now for something completely different.
Art Exhibition
April 11th
My daughter Zhana has been doing some amazing drawings, and has been finalist in a couple of competitions, with a win in one of them.
She's now taking part in the Sydney event of an international exhibition series called Raw Artists IMPACT, and I would like to encourage you to support her by buying a ticket and going to have a look in person. I certainly will be going!
It's part of a bigger exhibition with 38 others, and she could use the support. And I think she's the best one there, but then, I AM most unrepentently biased! But just check out her drawing below? AMIRITE?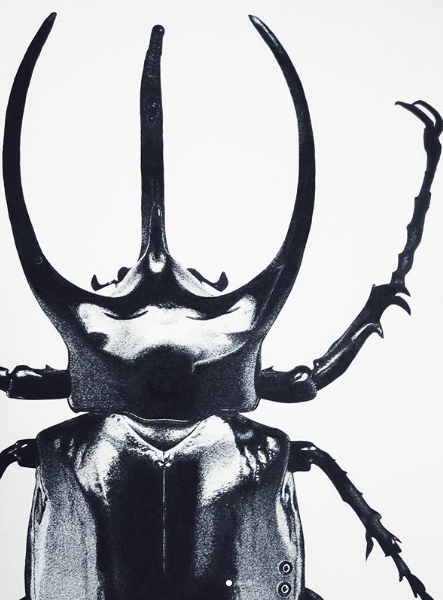 This is a section of her Waverley Art Prize winning hand-drawn beetle
You can check out her other work on Instagram at
https://www.instagram.com/zhanaolivia/ or her website https://www.zhanaolivia.com/
NOTE: many of her images are NSFW and the exhibition is rated 18+
Again, don't forget to check out the links below.
Facebook Group
We now also have a Kuro Obi dojo Facebook group. For the few uninitiated, this is not the same as the Kuro Obi Facebook Page. This is a closed group just for Kuro Obi dojo members, for information that is just dojo related and doesn't need to be on the main Dojo page.
If you have a Facebook account, and you're not already in the group, please request to join, so that I maybe I'll be able to send out fewer emails to you in the future.
Please don't forget to review Kuro Obi dojo! Put some nice words too, not just stars, please.
Facebook Click on Recommend or, better yet, review
Google Click on Review at the right hand side.
OSU!