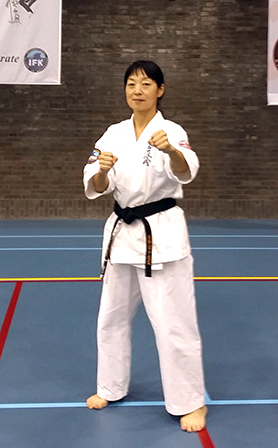 Shigemi started training in late 2003 because she got tired of waiting for her two boys to finish training - one was in the kids' class and the other was in the adults. So she decided not to waste her time any longer and joined the class instead.
She took her time and progressed through her grades, and eventually got her black belt in December 2012, and then in 2016, at the IFK Black Belt camp in the Netherlands, she was awarded her 2nd Dan by Hanshi Steve Arneil himself.
In Dec 2021, having continued training through 2 years of COVID-19 lockdowns, she finally graded for Sandan (3rd Dan).
She was the first IFK Australia student to be graded by Hanshi Steve, and was also the first, and so far (2020) only female black belt in Kuro Obi dojo.
She is still currently active and both attends and teaches kata and other classes in both Petersham and Five Dock, and is working towards her 3rd Dan at the age of 60.
Oh, in case you're wondering, the boys stopped training a long time ago...
Click here for a pictorial biography.