In light of current research published in the journel Lancet which shows that Australian teenagers are in the bottom 10 world ranking for teenage activity, it is evident that all teenagers should be doing SOME form of sport. Click here for the layman's version, and here for the actual published research.
Karate is probably one of the better all round options.
Karate training will provide them with balance, coordination, grace, strength, physical and mental awareness and agility, and self-discipline. For boys, it develops their sense of respect for other people, provides a useful outlet for all the energy and strength they have, and offers them a catharsis from the frustrations of growing up. For girls, it empowers them with strength, physical confidence, and strength, while also providing them with the basics of self defense.
All teenagers will benefit from the self-awareness, the friendly competitive environment, the team atmosphere, and the discipline that karate can provide. It is also one of the few competitive activities that can be practiced by both boys and girls at the same time, unlike so many of the team sports.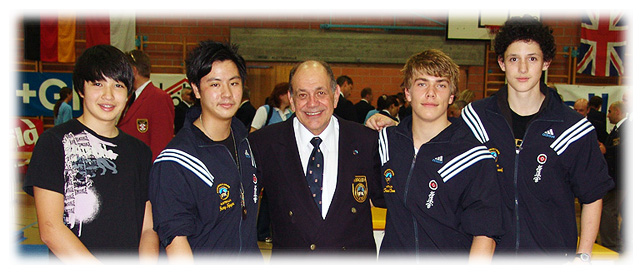 The under 16s IFKKA team with Hanshi Steve Arneil at the 2006 IFK Junior World Championships in Switzerland.
From left to right: John Pegios, Henry Nguyen, Hanshi Steve Arneil, Tristan O'Bree, Alexander Yussof.
John and Alexander both went on to get their black belts.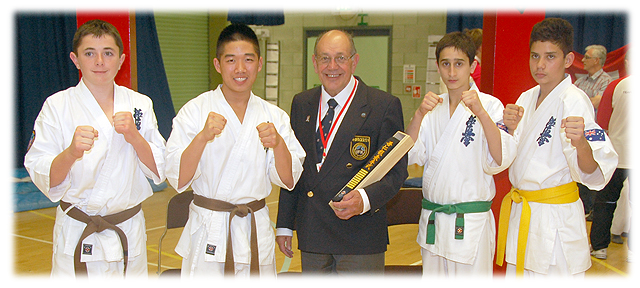 The under 16s IFKKA team with Hanshi Steve Arneil at the 2011 IFK Junior World Championships in the UK.
From left to right: Ciaran Doyle, Tony Le, Hanshi Steve Arneil, Alexander Vij, Robbie Simmons. Hanshi is holding is newly awarded 10th Dan belt.
Both Tony and Alex have since earned their black belts, and Robbie will be getting his in 2015 or 2016 Both Alex and Robbie are now at least 15 cm taller too.