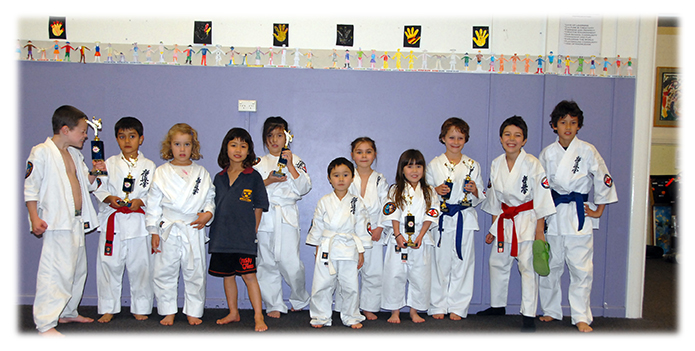 The Newtown dojo is in Newtown North Public School (NNPS) in Newtown, NSW and has been active now since 1995 - over 20 years! This was the main dojo location for from 1995 to 2010, but since the opening of the Petersham dojo in 2011, it now only caters to primary school children (under 12 years) twice a week.
Several of the Kuro Obi blackbelts originally started in Newtown. Shihan Shah's children went to school there back in the mid-1990s, and both started training there. Sensei Shah's son, Alexander, eventually went on to get his black belt.
Timetable
Karate classes at Newtown are held twice a week, after school. Children who attend NNPS get happy hour rates at NNPS after care facility on those days.
Wednesday 4:00 - 5:00pm - all grades
Friday 4:00-5:00pm - all grades
If a public holiday or school activity requires the use of the hall, attempts are made to arrange an alternative day, or free attendance at the Petersham dojo is available.
There are no classes at NNPS during school holidays, but students may attend classes at Petersham during that time.
Costs
For students of Newtown North PS, fees are charged per term, and differ depending whether attendance is 1 or 2 days a week. If beginners are interested in training twice a week, then they have the option of coming to Petersham as well, while only paying Newtown rates for the first term. For non-NNPS students, fees will be the same as the Petersham rates. Please contact us for more details about that using the contact details at the top of this page.
Uniforms, protective equipment (e.g. gloves, shinpads etc...), gradings, tournaments, and other events must be paid for separately. Newtown dojo students are also welcome to come to Petersham for any of the appropriate training sessions there, in particular during the school holidays when Newtown dojo is closed.
If you're interested in having your child do a trial class, please download and fill in the registration form and either This email address is being protected from spambots. You need JavaScript enabled to view it., or bring it along to the trial class.
Location
Training is conducted in the Main Hall of NNPS, and parking is available in the school car park. Access to the car park is via Campbell St., which is off Missenden Road.
Kyokushin Karate in Petersham
Kuro Obi Martial Arts also runs a full-time dojo in Petersham every day of the working week. Click here for details about Kyokushin Karate in Petersham, NSW.